Automatic system of accounting and analysis of production
Keywords:
Programming, remote data collection, accounting system, weighing equipment
Abstract
Purpose. In factories dealing with the packaging of food, medical, metallurgical and other products, there often arises the question of the inconsistency of the initial quantity of raw materials and finished products. Most often there is a situation when all the information is recorded manually and it all depends on the person - how much was this or that product put in the shipping packaging, and how much was recorded in the accounting journal. To solve this problem, it is proposed to use a weighing equipment with the possibility of remote acquisition of information Methodology. On the basis of the existing packing line with installed weighing equipment, a structure was developed, equipment was selected and software was created for the system for remote collection, analysis and weighing of products. Findings. The structure of the automatic system for accounting and analysis of products was created, developed using the C # language software for its functioning. Practical value. The automatic system was introduced at the enterprise of Ltd SPE "Dzherelo" and successfully functions. The proposed system can become a temporary economic solution on the way to full automation of the accounting process for small and medium-sized businesses.
References
Albakhari Dzh. C# 6.0. Spravochnik. Polnoye opisaniye yazyka [C# 6.0. Directory. Full description of the language] / Dzh. Albakhari, B. Albakhari – Moscow, Nauka Publ., 2016, 1032 p. (in Russian).
Boll Styuart R. Analogovyye interfeysy mikrokontrollerov [Analog interfaces of microcontrollers]. Moscow, Dodeka-XXI Publ., 2007, 360 p. (in Russian).
An Introduction to Statistical Learning / J. Gareth, Witten D, Hastie T, Tibshirani R. – New York: Springer Science, 2013, 441 p.
Erickson J. Hacking: the art of exploitation / J. Erickson. – San Francisco: No Starch Press, 2008, 492 p.
Raghavendra N. Engineering metrology and measurements / N.V. Raghavendra, L. Krishnamyrthy – New Delhi: Oxford University Press, 2013. – 546 p.
Sedgewick R. and K. Wayne Algorithms. Boston: Pearson Education, 2011, 969 p.
Springer C. Next Generation Sensors and Systems / C.Springer. – Switzerland: Springer International Publishing, 2016, 330 p.
Tananbaum A. Computer networks / A.S Tanwnbaum, D.J. Wetherall. – Boston: Pearson Education, 2011. – 962 p.
VK MODULE // Kontrollery avtomatyzatsyy [Automation controllers]. – Availible at: http://vkmodule.com.ua. (in Ukrainian).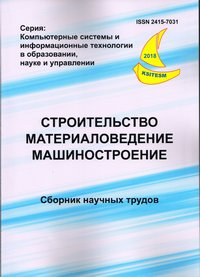 Downloads
Section
Computer systems and information technologies in education, science and management
License
Редакція  Видання категорично засуджує прояви плагіату в статтях та вживає всіх можливих заходів для його недопущення. Плагіат розглядається як форма порушення авторських прав і наукової етики.
При виявлені у статті більш ніж 25% запозиченого тексту без відповідних посилань та використання лапок, стаття кваліфікується як така, що містить плагіат. У цьому випадку стаття більше не розглядається редакцією, а  автор отримує перше попередження.
Автори, в статтях яких повторно виявлено плагіат, не зможуть публікуватися в усіх журналах Видавництва ДВНЗ «Придніпровська державна академія будівництва та архітектури».
Автори, які публікуються у цьому журналі, погоджуються з наступними умовами:


Автори залишають за собою право на авторство своєї роботи та передають журналу право першої публікації цієї роботи на умовах ліцензії Creative Commons Attribution License, котра дозволяє іншим особам вільно розповсюджувати опубліковану роботу з обов'язковим посиланням на авторів оригінальної роботи та першу публікацію роботи у цьому журналі.
Автори мають право укладати самостійні додаткові угоди щодо неексклюзивного розповсюдження роботи у тому вигляді, в якому вона була опублікована цим журналом (наприклад, розміщувати роботу в електронному сховищі установи або публікувати у складі монографії), за умови збереження посилання на першу публікацію роботи у цьому журналі.
Політика журналу дозволяє і заохочує розміщення авторами в мережі Інтернет (наприклад, у сховищах установ або на особистих веб-сайтах) рукопису роботи, як до подання цього рукопису до редакції, так і під час його редакційного опрацювання, оскільки це сприяє виникненню продуктивної наукової дискусії та позитивно позначається на оперативності та динаміці цитування опублікованої роботи (див. The Effect of Open Access).