Solution of matrix differential Riccati equations in the medium of modeling system of MVTU 3.7
Keywords:
dynamic systems design, stochastic dynamic programming, Riccati type differential equations, modeling system
Abstract
Purpose. For the design of systems under the action of random perturbations, a method of stochastic dynamic programming has been developed. The method is very effective because it allows one to find the optimal control of the parameters of elastic-dissipative connections of the crew suspension as a function of estimating the phase coordinates. The main reason that hinders the widespread use of this method for linear dynamic systems with many degrees of freedom is related to the lack of software for solving the matrix non-linear differential equation of Riccati type, which is included in the algorithm of the method. The aim of the work is to develop modeling schemes for solving differential equations of Riccati type in the system of modeling MVTU 3.7 (modeling in technical devices). The technique. The simulation system of MVTU 3.7 allows studying transient processes in complex dynamic systems and analyzing the stability and stability of oscillatory processes along a phase trajectory. A mathematical model of a dynamic system is created - differential equations, after - a structural diagram of the model and in the environment of MVTU 3.7 a modeling scheme is constructed. MVTU 3.7 has a graphics editor, so the modeling scheme is assembled from library blocks, which is located on the working field. The block parameters, initial conditions, integration method, simulation time, solution accuracy, etc. are set. The simulation results are given in the form of graphs. In addition, there is a text editor that records the numerical data of the simulation results. To solve differential equations like Riccati, a structural scheme is not needed. Results. A simulation scheme was created for solving differential equations of Riccati type and correlation functions of the matrix of parameters of the optimal filter were obtained. The simulation of the oscillation process of the body of the 2TE10L locomotive and the filter was performed. It has been established that for the 2TE10L locomotive it is not required to create devices for actively controlling the parameters of elastic-dissipative links. Naukova novelty. A method for solving differential equations in the simulation system of MVTU 3.7 Practical value. The main reason that prevented the widespread use of the method of stochastic dynamic programming has been eliminated and has hampered the development of the theory of creating active suspensions of transport crews.
References
Brammer K. and Ziffling G. Filtr Kalmana-Biusi [Kalman-Bucy Filter]. Moscow: Nauka, 1982, 200 p. (in Russian).
Yershova N.M. Sovremennyye metody teorii proektirovaniya i upravleniya slozhnymi dinamicheskimi sistemami [Modern methods of the theory of design and management of complex dynamic systems]. Dnepr: PGASA, 2016, 282 p. (in Russian).
Kartashov B.A. Sistemy avtomaticheskogo regulirovaniya: praktikum po matematicheskomu modelirovaniyu [Automatic control systems: a workshop on mathematical modeling]. Rostov na Donu: Feniks, 2015, 458 p. (in Russian).
Leondes K.T. Filtratsiya i stokhasticheskoe upravleniye v dinamicheskikh sistemakh [Filtering and stochastic control in dynamic systems]. Moscow: Mir, 1980, 407 p. (in Russian).
Khedrik Dzh. K. Aktivnye sistemy podveshivaniya zheleznodorozhnogo podvizhnogo sostava [Active suspension systems for railway rolling stock]. Zheleznyye dorogi mira [Railways of the world]. 1982, no. 11. (in Russian).
Ershova N., Bondarenko I., Shibko O. and Velmagina N. Development of the procedure for verifying the feasibility of designing an active suspension system for transport carriages / Eastern-European Journal of enterprise technologies. Kharkov, no.3/7 (93), 2018. – pp. 53 - 63.
Goodall R.M. and Kortum W. Active Controls in Ground Transportation – A Review of the State-of- the Att and Future Potential. Vehicle System Dynamics, 1983, vol. 12, iss. 4/5, pp. 225 – 257.
Jindai Kunio, Okamoto Isao, Kasai Kenjiro, Kakehi Yutaka, Terado Katsuyuki, Iwasaki Fumio and Huxohkukaurakkaucu Active control for rail vehicle vibration. The Japan Society of Mechanical Engineers. Bulletin of the JSME, 1982, vol. 85, iss. 764.
Karnopp D. Active Damping in Road vehicle Suspension Systems. Vehicle Systems Dynamics, 1983, vol. 12, iss. 6, pp. 291 – 331.
Yoshimura T., Ananthanarayana N. and Deepak D. An active vertical suspension for track/vehicle Systems. Journal of Sound and Vibration. 1986, vol. 106, iss. 2, pp. 217 – 225.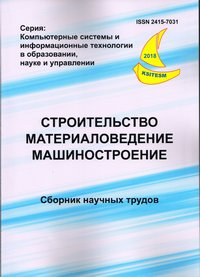 Downloads
Section
Computer systems and information technologies in education, science and management
License
Редакція  Видання категорично засуджує прояви плагіату в статтях та вживає всіх можливих заходів для його недопущення. Плагіат розглядається як форма порушення авторських прав і наукової етики.
При виявлені у статті більш ніж 25% запозиченого тексту без відповідних посилань та використання лапок, стаття кваліфікується як така, що містить плагіат. У цьому випадку стаття більше не розглядається редакцією, а  автор отримує перше попередження.
Автори, в статтях яких повторно виявлено плагіат, не зможуть публікуватися в усіх журналах Видавництва ДВНЗ «Придніпровська державна академія будівництва та архітектури».
Автори, які публікуються у цьому журналі, погоджуються з наступними умовами:


Автори залишають за собою право на авторство своєї роботи та передають журналу право першої публікації цієї роботи на умовах ліцензії Creative Commons Attribution License, котра дозволяє іншим особам вільно розповсюджувати опубліковану роботу з обов'язковим посиланням на авторів оригінальної роботи та першу публікацію роботи у цьому журналі.
Автори мають право укладати самостійні додаткові угоди щодо неексклюзивного розповсюдження роботи у тому вигляді, в якому вона була опублікована цим журналом (наприклад, розміщувати роботу в електронному сховищі установи або публікувати у складі монографії), за умови збереження посилання на першу публікацію роботи у цьому журналі.
Політика журналу дозволяє і заохочує розміщення авторами в мережі Інтернет (наприклад, у сховищах установ або на особистих веб-сайтах) рукопису роботи, як до подання цього рукопису до редакції, так і під час його редакційного опрацювання, оскільки це сприяє виникненню продуктивної наукової дискусії та позитивно позначається на оперативності та динаміці цитування опублікованої роботи (див. The Effect of Open Access).