The justification of scandium selection for microalloying and modifying of high-strength aluminium alloys
Keywords:
aluminum alloy, scandium, modifier, structure, mechanical properties.
Abstract
Abstract. Purpose. The substantiation of the scandium selection for microalloying and modifying of  high-strength aluminum alloys. Methodology. The material of the study was a high-strength aluminum alloy V96Z1 of the Al-Zn-Mg-Cu system. Scandium was chosen as a microalloying and modifying element. The Al-Sc state diagrams and the physical-mechanical properties of Sc was studied. The modes of heat treatment of alloy V96Z1 with 0.3% of Sc were given. The structure and mechanical properties of the modified alloy were studied. Results. The carried out complex of studies confirmed the modifying effect of Sc in the Al-melt, the injection technology of Sc into the melt has been worked out, the amount of Sc was optimized. Based on the analysis of the Al-Sc state diagrams, the homogenization temperatures of aluminum alloy V96Z1 quenching and aging  with optimization of the bars cooling rate were chosen. The grinding of grain in 2.5 times was achieved in the modified blanks, and the strength properties of the alloy were increased. Originality. The substantiation of Sc as a microalloying and modifying element for the aluminum alloy V96Z1  is justified from the point of view of  its physico-chemical nature conformity and aluminum-based alloys properties. Practical value. Establishing the technology of scandium injection into the melt and the temperature-time parameters of the bars thermal processing made it possible to obtain a dispersed structure and a high complex of the alloy V96Z1 mechanical properties.
References
Shank F. Struktura dvoynykh splavov [Structure of double alloys]. Moskva: Metalurgiya, 1973. - 780 p. Available at: https:// books.google. com. ua / books?id= jf93CwAAQBAJ&pg=PA182&lpg=PA182&dq=системы+Al-Zn-Mg-Cu-Sc &source= bl&ots= TRiku7TSJS&sig= sNia782rhjW9H6EU5iHdJ rwsgQ&hl=ru&sa= X&redir esc=y#v= onepage&q= %D1%81%D0%B8%D1% 81%D1% 82%D0%B5%D0%BC%D1%8B%20Al-Zn-Mg-Cu-Sc&f=false
Alyuminiy. Svoystva i fizicheskoye metallovedeniye: spravochnik; pod red. Khetcha [Aluminum. Properties and physical metallurgy: reference book; Ed. Hatch. ]. Moskva: Metalurgiya, 1989. – 424 p.
Yelagin V.I. Legirovaniye deformiruyemykh alyuminiyevykh splavov perekhodnymi metallami [Alloying of deformable aluminum alloys by transition metals]. - Moskva: Metallugrgiya, 1975. – 247p. - Available at: http://www.dslib.net/metallovedenie/issledovanie-sverhplastichnosti-vysokoprochnyh-splavov-sistemy-al-zn-mg-sc-zr.html
Milman Yu. V., Lotsko D.V. Sc effect of improving properties in Al- alloys // Mater. Sience Forum - 2000.–33/-337.- p.3-p.11071112.
Milman Yu. V., Sirko A.I., Lotsko D.V. Microstructure and Mechanical properties of cast and wrought Al-Zn-Mg-Cu alloys modified by Zr and Sc// Ybid.- 2002. 396-402. – p.723-728.
Akamatsu H., Fujinami T., Horita Z., Langton G. Influence of rolling on the superplastic behavior of an Al-Mg-Sc-alloy after ecap// Scripta mater.- 2001.-44.-p.759-764.
Drits M.Ye, Toropova L.S., Bykov YU.G. Alyuminiyevyye splavy, legirovannyye Sc [Drits M.E. Aluminum alloys doped with Sс]. Izv. vuzov: tsvetnyye metally [Izv. Universities: non-ferrous metals]. – 1985.- №4.- S. 80-84. . - Available at: http://cyberleninka.ru/article/n/zakonomernosti-formirovaniya-struktury-i-svoystv-kovochnyh-splavov-sistemy-al-zn-mg-cu-crazlichnym-soderzhaniem-osnovnyh-legiruyuschih
Davis I.R. Aluminium and Aluminium alloys// ASM International. The materials Information Society. – OH.- 1994.-784 p.
Kalinina N.Ye., Vilishchuk Z.V., Bunchuk Yu.P., Kalinovskaya A.Ye. Modifitsirovaniye spetsial'nykh splavov primenyayemykh v aviakosmicheskoy tekhnike [Modification of special alloys used in aerospace engineering]/ Kosmicheskaya tekhnika [Space technology]. –D.: 2 - 2013.- Vyp.3- P.35-38.
Wada I. Application Pre-Ribbed Al-alloys / Journal of Light Metal Welding and Construction. - 2003. – 41, №10.-p. 472-476.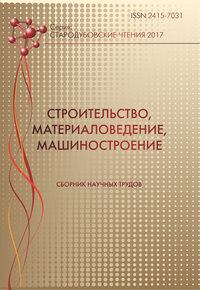 Downloads
Section
Proceedings in memory of Starodubov
License
Редакція  Видання категорично засуджує прояви плагіату в статтях та вживає всіх можливих заходів для його недопущення. Плагіат розглядається як форма порушення авторських прав і наукової етики.
При виявлені у статті більш ніж 25% запозиченого тексту без відповідних посилань та використання лапок, стаття кваліфікується як така, що містить плагіат. У цьому випадку стаття більше не розглядається редакцією, а  автор отримує перше попередження.
Автори, в статтях яких повторно виявлено плагіат, не зможуть публікуватися в усіх журналах Видавництва ДВНЗ «Придніпровська державна академія будівництва та архітектури».
Автори, які публікуються у цьому журналі, погоджуються з наступними умовами:


Автори залишають за собою право на авторство своєї роботи та передають журналу право першої публікації цієї роботи на умовах ліцензії Creative Commons Attribution License, котра дозволяє іншим особам вільно розповсюджувати опубліковану роботу з обов'язковим посиланням на авторів оригінальної роботи та першу публікацію роботи у цьому журналі.
Автори мають право укладати самостійні додаткові угоди щодо неексклюзивного розповсюдження роботи у тому вигляді, в якому вона була опублікована цим журналом (наприклад, розміщувати роботу в електронному сховищі установи або публікувати у складі монографії), за умови збереження посилання на першу публікацію роботи у цьому журналі.
Політика журналу дозволяє і заохочує розміщення авторами в мережі Інтернет (наприклад, у сховищах установ або на особистих веб-сайтах) рукопису роботи, як до подання цього рукопису до редакції, так і під час його редакційного опрацювання, оскільки це сприяє виникненню продуктивної наукової дискусії та позитивно позначається на оперативності та динаміці цитування опублікованої роботи (див. The Effect of Open Access).